We have over twenty years of experience in the market and thus are able to provide highest quality products. Our partners and employees are carefully selected, further assuring quality of services. We monitor the market carefully in order to keep up with the latest innovations.
Food colouring
We offer high quality food colouring, suitable for any and all fields of the food industry.
Flavourings and essential oils
Wide assortment of both natural and artificial flavourings as well as high quality essential oils is available for food, cosmetics and pharmaceutical industries. We seek to please even the most demanding tastes.
Other raw materials for food and domestic chemical industries
Here you will find a wide variety of ferments, pectins, vegetable oils. These materials can be used both in the food as well as cosmetic and domestic chemistry industries. We also carry vitamin C and Sorbic acid.
Egg-based products
We carry such egg-based products as: eggs, tight-bond egg whites, egg yolk powder. They can be widely used as food ingredients across the board.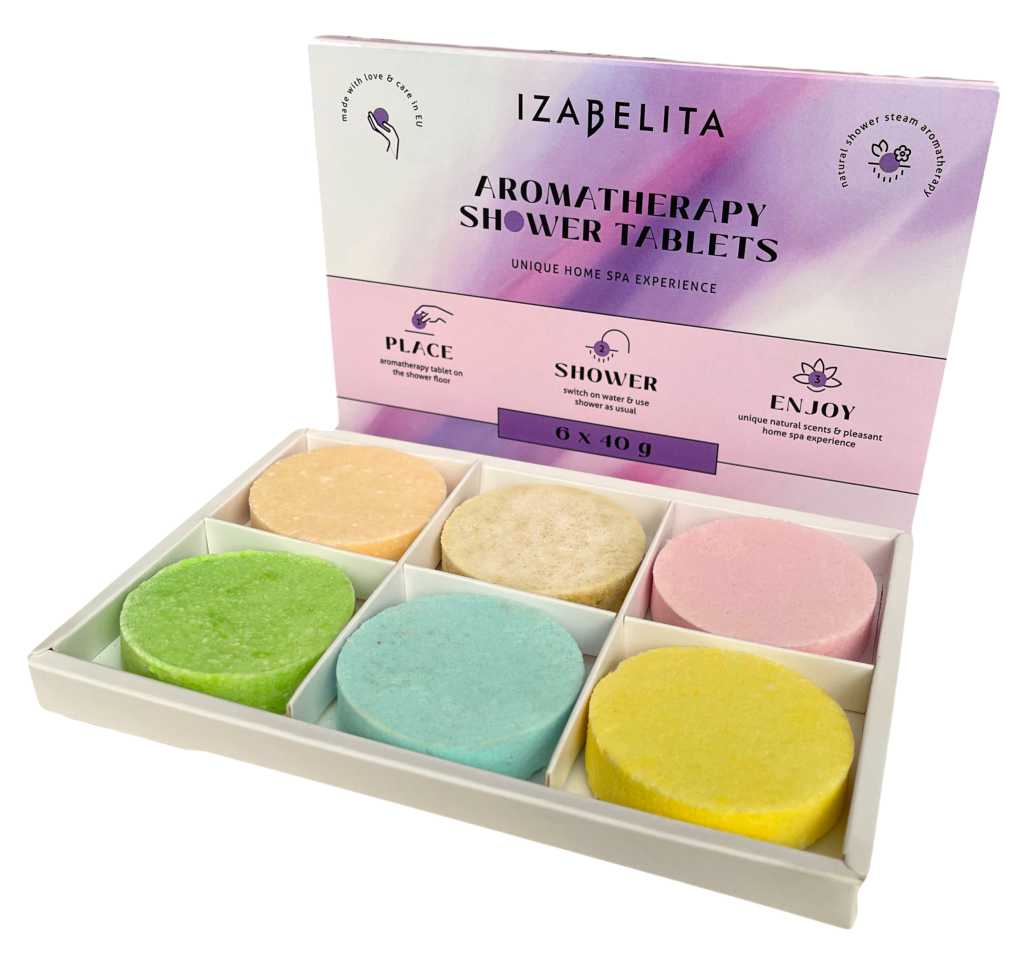 Aromatherapy Shower Tablets
Aromatherapy shower tablets will help to create SPA in your shower. Six unique aromas, revealed in different notes, will allow you to experience delightful feelings. Carrying up your well-being it rises your energy, creates harmony around you and inspires spirit.
CHOOSE A PLEASANT ODOR AND ENJOY THE PLEASURES OF THE SHOWER SPA – FORGET NEGATIVE THOUGHTS AND EMOTIONS!
HISTORY
Founded in 1997, 'Izabelita' has catered to the Lithuanian, Latvian and Estonian markets ever since. Contemporary outlook and experience of many years' standing ensures a highly professional attitude and a selection of best quality products.
'Izabelita' employs only highly qualified technologists. In order to achieve best results our employees consistently collaborate with our manufacturers to improve their qualifications. Our services are always carried out with utmost precision and care, with consideration of clients' individual requests and ensuring highest possible quality.
OPENING HOURS
We are open from 8.00 to 17.00 (GTM+2), on working days. Closed Saturdays and Sundays, as well as bank holidays.
CONSULTATION
For your convenience, we will assist and advise you in selecting the most suitable products.
DELIVERY
We deliver to every city in Lithuania as well as Latvia and Estonia. We also provide fast and free shipping for delivering product samples.
INVIDUAL ORDERS
We will cater to any individual clients' requests with utmost care and attention to detail.
KOMBINUOTO ORO IR PAVIRŠIŲ DEZINFEKAVIMO ĮRENGINIO "FONAS 1000" GAMYBA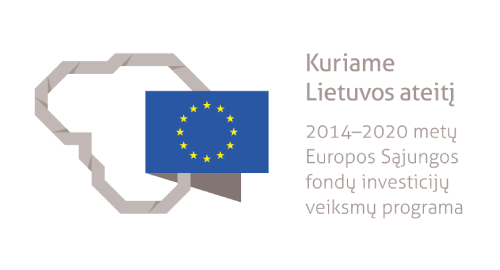 UAB "Izabelita" įgyvendina projektą "Pasiruošimas KOMBINUOTO ORO IR PAVIRŠIŲ DEZINFEKAVIMO ĮRENGINIO "FONAS 1000" gamybai, Nr. 03.3.1-LVPA-T-859-01-0065, finansuojamą iš Europos Sąjungos struktūrinių fondų lėšų (projekto biudžetas – 276 793,75 €, skirtas finansavimas – 262 954,06 €).
Projekto tikslas – įrenginys bus gaminamas siekiant sumažinti užsikrėtimo Covid-19 riziką bei užtikrinti žmonių saugumą.
Įgyvendinus projektą – kadangi įrenginys gali naikinti ir įvairius ar kitokio tipo virusus, galima išplėsti jo taikymą, tokiu būdu išplečiant panaudojimo galimybes
"COVID-19 produktai" – finansuojama iš Europos regioninės plėtros fondo. Finansuojama kaip Europos Sąjungos atsako į COVID-19 pandemiją priemonė.
We have been partners with UAB 'Izabelita' for a few years now. We see them as a highly reliable business partner that puts clients' wishes and needs as the highest priority. That is why we find it very easy and pleasant to work with them.

UAB 'Izabelita' is a company that is easy to work with. We have been working with the company for over 9 years and we have not had a single disappointment. We know that we can always trust the incredible team of 'Izabelita' that is always ready and willing to help.
CALL US
Email: info@izabelita.lt
Phone: +370 699 36428
FIND US
UAB "Izabelita"
Darbo a. 5,
Panevezys Lithuania